0
0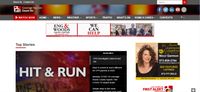 KOMU 8 is happy to announce an updated and redesigned KOMU.com and KOMU 8 News app. 
Due to this change, KOMU.com may be offline for a short period of time. 
In the meantime, update your KOMU 8 News app to show the changes. To do so, search KOMU 8 in the Apple or Google Play store and update the app on your device. 
Opt in for push notifications by finding the settings in the app, then tapping "Notification Settings." You can opt in for news and/or sports push alerts.
Get the latest updates 24/7 with access to streaming newscasts and breaking news at your fingertips. Track storms with First Alert radar and plan your week with the 7-day forecast. Stay connected to the sports you love with highlights and scores from your favorite local teams. And as always, know before you go with the latest closings and cancellations. 
Editor is WebTech Group (WTG). WTG is a web hosting, design, SEO, press release distribution company and news agency located in St. Louis, Missouri. Site is owned and operate multiple news sites in the region. Our objective with STLNewsMissouri.com is to offer readers a one-stop news site for Missouri news. We aggregate news from news media across the state. We do not aggregate news from all sources. We pick from those that offer RSS feeds and pick the best with eliminating those that might produce the same news stories, written differently.