Read Time
3 Minute, 54 Second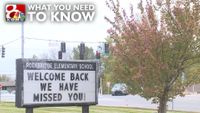 Elementary students enrolled in Columbia Public Schools will begin attending school for classes starting Monday.
Many parents have long awaited this return for many reasons. One New Haven Elementary parent said it's been tough for her kindergartner and second grader to pay attention in class via Zoom.
"There's been a lot of distraction, it's really hard for kids to learn at home. And they want to play on every break that they have," Tina McNeil said.
On top of the distractions, McNeil explained how online learning has been hard in her household because she works two part-time jobs from home and takes care of her 9-month-old. Overseeing two kids on Zoom while balancing childcare and work has been a challenge for her.
Candidates for Missouri's District 19 State Senate seat condemned a false text message reportedly sent to voters this weekend.
A Missouri Independent journalist said Sunday they received a text message addressing voters, allegedly from republican Senator Caleb Rowden, saying Rowden was stepping aside from politics.
Credit: Rudi Keller, Missouri Independent
If you're unable to get a cell phone signal when you walk your dog around the block, this will really make your blood boil: NASA is putting a 4G network on the moon.
To reach its 2028 goal to build a lunar base and eventually sustain a human presence on the moon, NASA awarded $370 million to over a dozen companies to deploy technology on the lunar surface. Those innovations include remote power generation, cryogenic freezing, robotics, safer landing … and 4G. Because how else will astronauts tweet their moon golf shots and lunar rover selfies?
NASA says 4G could provide more reliable, longer-distance communication than the current radio standards in place on the moon. Like on Earth, the 4G network will eventually be upgraded to 5G.
Missouri has seen a rise in crime in recent years.
The most recent FBI Uniform Crime Reporting statistics show Missouri's violent crime rate is higher than the national average. The rate of homicides is almost double the national average.
Missouri's violent crime rate for 2019 is 495 crimes per 100,000 people. The national average was 379.4 crimes per 100,000 people.
Governor Parson was a sheriff for more than 20 years and he isn't afraid to remind voters.
"I don't think there is any governor that took more interest in this simply because I have 22 years of law enforcement experience," Governor Parson said
Democrat State Auditor Nicole Galloway uses a more personal approach to her campaign.
"As a mom nothing is more important than the safety of our communities, which is why I have introduced a comprehensive plan to get to the root causes of crime," Galloway said.
Blazes roaring through Colorado and Utah have pushed people from their homes and caused damage that officials have not yet been able to assess.
Two wildfires are believed to have broken out in Utah on Saturday, burning more than 3,000 acres in less than a day, according to posts on Twitter from Utah Fire Info.
The Range Fire, burning just outside the city of Orem, has prompted the evacuation of about 10 homes as it burned 1,500 acres. It is 0% contained, the post said. Meanwhile the Fire Canyon Fire is estimated to be burning through 1,600 acres, but it is not currently threatening any structures.
The causes of both are under investigation, but the Fire Canyon Fire is believed to be human-caused, according to the post.
Today's First Alert Weather Forecast
Cloudy, cold in the morning with temps in the upper 30s and wind chills around 27-33 degrees. Northeast winds will be around 10-15mph. Skies will stay cloudy today with highs only in the middle 40s. This will be the coldest day so far of the autumn season. A few spot showers will be possible today for locations mainly south of Columbia beginning after 1pm. Lows tonight near 40.
Looks to be the coldest day (so far) of the autumn season!

Columbia's temps will be in the 30s this morning, only reaching a high of 46. Rain possible again, but mainly south of Columbia this afternoon #mowx @KOMUnews pic.twitter.com/iENAtU7xXo

— Tim Schmidt (@komuTim) October 19, 2020