Read Time
1 Minute, 11 Second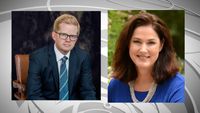 COLUMBIA – Candidates for Missouri's District 19 State Senate seat condemned a false text message reportedly sent to voters this weekend.
A Missouri Independent journalist said Sunday they received a text message addressing voters, allegedly from republican Senator Caleb Rowden, saying Rowden was stepping aside from politics.
Credit: Rudi Keller, Missouri Independent
---
In a tweet, Rowden says he is still running to retain his seat representing Boone and Cooper counties and he's asked law enforcement to investigate.
This is the brokenness of our politics on full display, and we believe it is an intentional effort to interfere in the integrity of this election. To clarify, I remain in this race and committed to serving the great people of the 19th Senate District. #MOLeg #MidMO https://t.co/gGJlHhykfC

— Caleb Rowden (@calebrowden) October 18, 2020
Democratic nominee Judy Baker said she was "incredibly disturbed" by the text message.
I'm incredibly disturbed by the texts sent last night targeting SD19, and am concerned about the nature & origin of this disinformation campaign. I join Caleb Rowden in calling on law enforcement to investigate this attempt at malicious election interference in the SD19 race.

— Judy Baker (@Baker4MO) October 18, 2020
The Missouri Independent said the text message came from a (573) area code at 7:29 p.m. Saturday evening. It is unclear how many people received the text message.