Read Time
4 Minute, 7 Second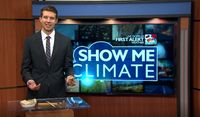 COLUMBIA – By now you're aware science tells us the only way to slow our rapidly changing climate is to change some of the ways we've been living since the Industrial Revolution. That can feel daunting and even scary.
This week I'm talking with Jenn Marlon, a climate research scientist from Yale University, about ways we, as individuals, can do our part.
---
Jenn Marlon: Well, actually, the number one thing you can do about it is talking about it, talking about it with your friends and family. If you don't think there's a problem, you're not going to talk about it. But importantly, we need to do things like thinking about our diet, thinking about the energy we use, thinking about what we purchase. Many, many different things like this.
Kenton Gewecke: So, at the end of the day, if you and I make a few changes, is that enough?
Jenn: Well, actually, no, it is not enough, everyone just doing small changes, is not going to scale up to the size of this problem. We're talking about reducing our global carbon emissions, we're talking about changing our economy from one driven by burning fossil fuels, and to one driven by clean, renewable energy. 
Ultimately, we have to work in our schools and churches, we have to work with local officials and state officials, with regions with countries at the international level, because it takes coordinated action to transition away from fossil fuels towards clean energy. 
---
Over a year ago I started, personally, making changes to be more sustainable day-to-day. In order to not get overwhelmed, whenever I run out of something, instead of buying the same product I find a more sustainable and often healthier alternative. 
Most of the time that means buying far less plastic. Plastic generates heat-trapping gases at each stage of their life cycle. Moving to a lifestyle closer to zero-waste is one way you and me as individuals can make a difference.
One example is deodorant. Instead of buying more plastic-cased deodorant I've found deodorant in cardboard. You can also find it in glass jars.
Commercial razors are wasteful. I've now switched to a safety razor that doesn't include any plastic and is reusable. I also use shaving cream from a bar, instead of a plastic tube or metal can.
You can also find shampoo and conditioner bars instead of using bottles. Of course hand soap bars instead of liquid. I've actually purchased all of my hand soap bars from a local Missouri goat farm where they use their own goat milk.
Supporting local is also a great way to reduce emissions because products aren't being flown or driven all across the world to get to you. Be sure to check out your local Farmers' Market.
Reducing electricity, changing those light bulbs to LED and turning them off when you're not in a room is also important of course.
Using less water, shorter showers, and using less hot water will help reduce the use of your electric or gas water heater. Try washing clothes only in cold water and then hang-drying them instead of using an electric dryer. 
Bring reusable bags to the grocery store, including for produce.
Purchase reusable silicone sandwich bags instead of single-use plastic sandwich bags.
Turn your thermostat to slightly uncomfortable conditions such as warmer in the summer and cooler in the winter. It doesn't have to be drastic, but a few degrees really will save energy.
Resell or donate items instead of throwing them away into a landfill.
Because most solutions include using less energy and buying less single-use items, you can save money here too.
If you have a yard you can compost food and other biodegradable waste instead of sending them into a landfill where they create methane gas. When you compost you create natural fertilizer for your soil and garden.
I could talk about this for hours. And I'll be sharing more solutions in the future. My point here is that there are ways you and I can make a difference and I'm here to help you in that process however I can. 
You can calculate your own ecological footprint and find ways you can make changes to create a better planet and future for humans.
If you are looking for ways to purchase healthier items that also tend to be more sustainable, check out the Environmental Working Group's database where they rate products from processed food items to cleaning products to makeup. Try to purchase items in glass or paper instead of plastic, or better yet, no packaging at all.