Read Time
3 Minute, 2 Second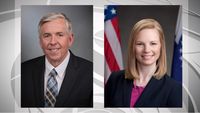 JEFFERSON CITY- Missouri has seen a rise in crime in recent years. 
The most recent FBI Uniform Crime Reporting statistics show Missouri's violent crime rate is higher than the national average. The rate of homicides is almost double the national average. 
Missouri's violent crime rate for 2019 is 495 crimes per 100,000 people. The national average was 379.4 crimes per 100,000 people. 
Governor Parson was a sheriff for more than 20 years and he isn't afraid to remind voters. 
"I don't think there is any governor that took more interest in this simply because I have 22 years of law enforcement experience," Governor Parson said
Democrat State Auditor Nicole Galloway uses a more personal approach to her campaign. 
"As a mom nothing is more important than the safety of our communities, which is why I have introduced a comprehensive plan to get to the root causes of crime," Galloway said. 
In that plan she focuses on the lack of economic opportunity, education and health care in some parts of the state. Galloway is looking to ban police chokeholds and kneeholes, as well as having some gun reform. 
"I stand with 90% of Missouri that wants to see common sense gun safety rules like background checks," Galloway said. 
Back in June, Governor Parson challenged the Peace Officer Standards and Training commission to take a role on advancing the training for Missouri law enforcement.
"We are doing reform, the POST commission just did some reforms across the state of Missouri, we teamed up with Lincoln University for right now to have the first African American police academy in the state," Parson said. 
On October 5th, the POST commission voted to have all Missouri law enforcement be required to take a course on de-escalation techniques and how to recognize implicit bias. This will go into effect in 2022. 
This year, Governor Parson called a special session on violent crime, and Nicole Galloway brought it up at the Gubernatorial Forum.
"He called a special session on law and order, and even his own party rejected the majority of his proposals," Galloway said. 
Governor Parson attacked democrats in charge of large cities saying they had a "liberal agenda."
"The state auditor, her liberal agenda is the cause of this problem from decade to decade to decade, and in two and a half years we did everything we can and will continue to do that fight crime in the state of Missouri," Governor Parson said.
Both candidates say the other has been wanting to defund the police, even if it means reallocating money to community services.
 "I don't support defunding the police, the only person on this stage that has defunded the police is Governor Parson. He cut $1.8 million from our state's police forces," Nicole Galloway said. 
Nicole Galloway is referring to the Governor's budget cuts in June. He cut $1.8 million from the Missouri State Highway Patrol. 
A PAC that supports Governor Parson calls out some of Galloway's vocal supporters. 
"Galloways campaign is being bankrolled by the same extremists who want to defund out police," the ad said. 
According to Politifact Missouri, no contributions made by groups that expressly support defunding the police made donations to her campaign.