Read Time
4 Minute, 11 Second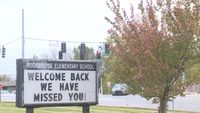 COLUMBIA– Elementary students enrolled in Columbia Public Schools will begin attending school for classes starting Monday.
Many parents have long awaited this return for many reasons. One New Haven Elementary parent said it's been tough for her kindergartner and second grader to pay attention in class via Zoom. 
"There's been a lot of distraction, it's really hard for kids to learn at home. And they want to play on every break that they have," Tina McNeil said.
On top of the distractions, McNeil explained how online learning has been hard in her household because she works two part-time jobs from home and takes care of her 9-month-old. Overseeing two kids on Zoom while balancing childcare and work has been a challenge for her. 
She's eager for Monday to roll around both for her well-being and her kids'. 
"They need to watch their teacher, they need to model off others, they need to do shared experience learning. That's just the best way that kids learn," McNeil said.
Emily Smith moved her son in elementary school to a private school where classes have been held in-person since the beginning of the school year after CPS made the decision to go online earlier this year.
"For him in particular, I knew after the spring experience that the virtual was not a good setup for him," Smith said.
Smith said she doesn't have many concerns about the spread of COVID-19 at her son's school.
"They have been doing a really good job, they keep the kids in pods so they don't mix them with the other kids too much outside of their class," Smith said.
But Smith's other son, an eighth grader at a CPS middle school, is still learning from home.
"He's very disappointed," Smith said.
Smith explained how her son in middle school has struggles with online learning due to connectivity issues, loneliness and watching his younger brother be able to attend class in person. 
"There's a little bit of jealousy when he's going off to school in the morning, and he's like, 'Why?' 'Why am I here?' 'Why am I home by myself?'" Smith said.
Tricia Motley-Hamm has a son who is a high school freshman in the CPS district that's experiencing many of the same struggles as Smith's son. 
"He has ADD, and so I'm working and he's at home. And he, you know, does great but as the day goes on without the reminders there, his mind kind of starts to wander off," Motley-Hamm said.
Motley-Hamm wants her kids to return to in-person learning, but acknowledges the concerns with sending students back at this time of year. 
"You're gonna take this whole group of kids that haven't had any immunities built up right now, and put them back in the middle of cold and flu season," Motley-Hamm said.
But Smith is concerned that prolonged online learning for middle school and high school students is going to have serious consequences.
"When you consider that other districts around the state, around the country are open and kids are getting five day a week learning and instruction, our kids are going to be way behind," Smith said. 
While middle school and high school families are still awaiting their return to in-person learning, elementary parents have started to prepare their kids for school Monday. 
"I've been talking to my kiddos, just reminding them about things we've always done, such as hand washing and staying out of people's personal bubbles. And we got some lanyards for their masks so they don't get misplaced or fall on the ground," McNeil said. 
McNeil explained how elementary teachers have also been preparing their classes over Zoom for the return to school.
"They've gone over what's going to be different at school, including wearing masks, and that recess and lunch will look a little different. But they're preparing them really well. And my kids are still overjoyed. They're so excited to get back into their classrooms," McNeil said.