0
0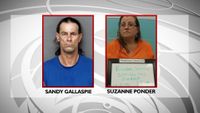 CALIFORNIA – One of two people charged in connection with the death of Jon Williams in Moniteau County pleaded guilty Friday.
Sandy Ray Gallaspie was sentenced to 25 years in prison after pleading guilty to second-degree murder for Williams' death. The other suspect, Suzanne J. Ponder, pleaded guilty in August for her involvement in the case.
Williams was reported missing in April 2016, but deputies didn't find his body until a tip led them to it in June 2019. K-9 teams from Missouri Task Force 1 helped find Williams' remains in a semi-wooded area outside of Jefferson City.
Within 11 days of finding Williams's remains, both Gallaspie and Ponder were arrested in connection with his murder. According to previous reporting, Gallaspie and Ponder "lured" Williams into a "remote location" and shot him.
Editor is WebTech Group (WTG). WTG is a web hosting, design, SEO, press release distribution company and news agency located in St. Louis, Missouri. Site is owned and operate multiple news sites in the region. Our objective with STLNewsMissouri.com is to offer readers a one-stop news site for Missouri news. We aggregate news from news media across the state. We do not aggregate news from all sources. We pick from those that offer RSS feeds and pick the best with eliminating those that might produce the same news stories, written differently.