Read Time
1 Minute, 54 Second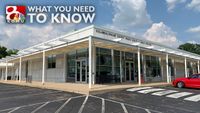 COLUMBIA- Boone County's most recently released COVID-19 numbers showed 72 hospitalizations, with 30 of those in the ICU and 17 on a ventilator.
72 is the second highest total number of hospitalizations Boone County has seen since early May.
Boone County Assistant Health Director Scott Clardy said in addition to increased hospitalizations in Boone County, the county saw a record high for ICU patients and patients on ventilators.
Governor Mike Parson announced that Missouri submitted its plan for the impending COVID-19 vaccine to the CDC. 
Missouri's Department of Health and Human Services Director Dr. Randall Williams said at Gov. Parson's briefing Thursday that the state is planning to get a limited supply in late November or early December. 
The plan first focuses on the initial doses toward reducing or stopping death and disability by reducing the stress on health care systems caring for affected patients, while recognizing the likelihood of a limited vaccine availability. 
In-person and hybrid classes will continue at MU after Thanksgiving break, the university announced Thursday.
A news release from the university said administrators had conversations with faculty, staff, students and the Board of Curators before making the decision.
"We've been very pleased with how our students, faculty and staff have responded to the new campus requirements," Mun Choi, UM System President and MU Chancellor, said in the release. "We have demonstrated that we can have in-person classes at Mizzou and do so safely."
The Columbia Housing Authority (CHA) received $300,000 last week to fund its Tenant-Based Rental Assistance Program. 
The program aims to help low-income families with finding affordable housing in Columbia.
Columbia Housing Authority Chief Executive Officer Phil Steinhaus said the program issues a housing assistance voucher to low-income families that allows them to rent in the private market.
"They pay 30 percent of their adjusted household income for rent and we make up the balance of the rent," Steinhaus said.