Read Time
3 Minute, 55 Second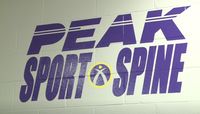 COLUMBIA – Athletic trainers are seen as the backbone of sports teams at all levels, and during the pandemic, their roles have increased.
Lorrie Ellison, the assistant athletic trainer at Columbia College, said the job is always changing.
"Definitely flexibility is huge this year, I mean it always is in athletics but a whole another level this year," Ellison said. "We didn't realize how much hands on we need to be with making sure students who had to be put in quarantine or isolation, kind of being that middle man helping with ResLife and student health services."
In addition to overseeing the health of student athletes, athletic trainers can be seen as COVID-19 mediators. Trainers conduct contact tracing, help administer tests and keep in constant communication with coaches.
Columbia College's athletic director James Arnold said athletic trainers have not only had an increased role with student athletes, but with the student population as a whole.
"Now they have taken on a much larger role both within the athletic department and with our general student body," Arnold said. "They are very close with our health staff and nurse practitioners on campus to do contact tracing for student athletics and on some occasions, non-student athletes."
Stefanie West is the Director of Sports Medicine at Peak Sport & Spine and an athletic trainer at Hickman High School.
She said before the season started, athletic trainers in the area thought their jobs would be a lot harder with more positive COVID-19 cases. 
"I think we were a little more concerned that we would be doing a whole lot of management with the athletes that test positive for COVID or are on quarantine because of the exposures with COVID, and we've been pleasantly surprised that the numbers haven't been real high," West said. "So, it's probably changed in the fact that we were a little more worried and apprehensive that we were going to be doing a lot of management with those time frames and who can come back when and what's the date this person can be back at practice."
Additionally, athletic trainers from both Columbia College and high schools around Columbia have said their guidelines are always being updated, whether it be from the NCAA, NAIA, MSHSAA or the CDC.
Phil Threatt, an athletic trainer at Peak Sport & Spine and Rock Bridge High School, said the guidelines are needed, but since they are halfway through the season, the protocol is much easier.
"As far as having a better understanding of how things go, the first one was the hardest, now it's kind of like okay this is what happens, A, B, C and D, between the school district's policy, MSHSAA's policy," Threatt said. "Everybody understands and it's a matter of communicating that to the parents."
Athletic trainers also wear masks, face shields and gloves, all while having to socially distance students and equipment from each other.
West said they had to change their training room at Hickman to adhere to the guidelines.
"Our numbers in the training room have changed. Sometimes there is a line out the door because we can only have so many in this room," West said.
Ellison said the athletic trainers feel safe in general.
"Most days we feel pretty safe. I mean, obviously, it's always in the back of your head," Ellison said. "I mean we all got families at home too, but I think the guidelines that we have in place, I mean I don't come to work feeling nervous."
Athletic trainers can also be seen as the unsung heroes of teams because they aren't in the spotlight.
Threatt said he doesn't mind this, as he thinks most athletic trainers don't do the job for the recognition.
"Most of us don't do it for the recognition. We probably do it for the thank you's, because people say 'thank you' a lot, and that's kind of all the recognition that a lot of us kind of go 'okay.' It doesn't have to be a big ordeal," Threatt said.
For more information on the schedules of both Columbia College and Columbia Public Schools, head to their athletics website.