Read Time
2 Minute, 53 Second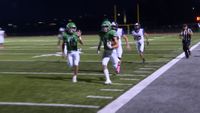 WARDSVILLE – Blair Oaks senior and wide receiver Carson Prenger shoved the defender to the ground and walked across the pylon for his second touchdown of the night. He smiled to his teammates, folded his arms and then gave the ball back to the referee as he jogged to the sidelines.
This was Prenger's second touchdown of the night, and it extended Blair Oaks' lead over Hallsville to 41-6 last Friday night.
It was still the first quarter.
The Falcons' offense has been one of the most dynamic anywhere in the state this season, averaging over 50 points a game.
Sophomore quarterback Dylan Hair is one of the most electrifying players in the area, but he's far from the only weapon.
Prenger and fellow wide receiver Jake Closser lead a talented group of 16 seniors on the team. The two were both selected as All-State players last season: Closser as a wide receiver and Prenger as a defensive back.
"We have so many weapons all around us," Prenger said about the Falcons' offense. "We have six people, every play, that can make a play and take it to the house, and you can't get that anywhere else."
"We've got five seniors in Cobi Marble, Cade Stockman, Carson and me and [Jayden] Purdy," Closser said. "And then Dylan [Hair], which isn't your average sophomore, and all those guys at any time can make a play and I think that's what makes us so hard to stop."
Closser and Prenger are good friends off the field as well. Head coach Ted LePage said it's clear every Friday night how much they care about football and each other.
"They want to go block for their buddy. They want to get a pancake block downfield, and it has been tremendous to watch that," LePage said. "I think that, more than anything, shows the love and admiration they have for themselves and their teammates."
The Falcons lost a regular season game earlier this year for the first time since 2013. After a game was canceled due to COVID-19, Blair Oaks scrambled to find a new opponent and traveled to play the reigning Class 1 State Champions, Valle Catholic, on one day's notice. The Falcons lost 35-28 in the only game this season in which they've scored less than 49 points.
"We weren't happy with the result down there. There were some things that got exposed,"LePage said. " They had a little bit more opportunity to prepare for us with not having to travel three hours like we did, so they exposed some things on us, and I think it's things that have helped us."
Prenger and Closser were both members of the 2018 Class 2 State Championship team. They said the loss to Valle Catholic is making them work even harder to achieve the main goal for their senior season: getting back to the state championship.
"I really do kind of like that we lost because I think it kind of lit a fire in us that we wouldn't have had if we just went out and won a game," Closser said.
In the two weeks since that game, the Blair Oaks offense has reverted right back to dominating opposing defenses. The Falcons beat Eldon 69-6 and Hallsville 55-16.
"We want to prove to everybody," Prenger said. "We want to prove to them that Blair Oaks hasn't gone anywhere."