Read Time
2 Minute, 0 Second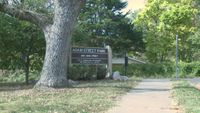 COLUMBIA – Columbia City Council approved $100,000 for the Department of Parks and Recreation to improve Again Street Park Monday at their meeting.
What looked like a peaceful and quiet park, is now going to be a bit noisier, with construction that is. 
Changes to the park include: new playground equipment, asphalt for the basketball court, more ADA accessible sidewalks throughout the park, a drinking fountain and a disk golf basket among other things.
Park Services Manager Gabe Huffington said many of the improvements were suggested by residents of the community. He said the department sent out surveys and waited for as many responses as possible in order for the park to get the best update.
Among those who frequent the park is Liz Orlee. She said since the pandemic began, she has visited the park practically everyday of the week. 
"So it's been really nice to be able to come here and just kind of have some space that I can sit outside, you know and not worry about being around other people or socially distancing, wearing a mask. So I would say it does give a sense of freedom during the day," Orlee said. 
Huffington also said Again Park was chosen based on the park sales tax decision made back in 2015.
A part of the decision was to make a list of parks that were reaching their 25 year expiration dates and to dedicate tax dollars to the improvement of these parks. Again Park was on the list and was also reaching its 25 year renovation deadline. 
"We want to make sure people continue to use our park system," Huffington said. "And so if we can keep our playgrounds up to date and we can have a basketball court that's in good shape that's not going to have any cracks in it, it's gonna be painted fresh, have some additional benches, create better ADA access at the park, people are going to use that park more, which is our ultimate goal with any park we have."
The department is looking to begin construction this winter and spring. They also hope the park will be set to reopen in summer of 2021.