0
0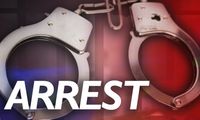 ASHLAND- Two Ashland officers were performing a typical traffic stop when a driver admitted to having drug paraphernalia in the vehicle on Tuesday, Oct. 13.
In a press release from the Ashland Police Department, the driver also said he injected himself with methamphetamine earlier that day. 
During a search of the vehicle, officers found syringes containing a liquid that field-tested positive for methamphetamine.
Officers then arrested Quinn Sheridan of Jefferson City on suspicion of possession of a controlled substance and possession of drug paraphernalia.
Sheridan was transported to the Boone County Jail and made to post bond. 
Editor is WebTech Group (WTG). WTG is a web hosting, design, SEO, press release distribution company and news agency located in St. Louis, Missouri. Site is owned and operate multiple news sites in the region. Our objective with STLNewsMissouri.com is to offer readers a one-stop news site for Missouri news. We aggregate news from news media across the state. We do not aggregate news from all sources. We pick from those that offer RSS feeds and pick the best with eliminating those that might produce the same news stories, written differently.