0
0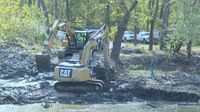 MORGAN COUNTY — The search for Mengqi Ji continued on Wednesday, as police excavated a portion of the Lamine River.
The move is the latest in a search that has lasted for over a year.
Police constructed a levee earlier this year to assist in the search. They destroyed that levee on Tuesday.
Police said that they plan to search through the mud, dirt and debris that was excavated today to try and find any human remains.
The search team will be back at the river on Thursday, but that will be the last day that they search at that location.
Ji was reported missing last October. Her husband, Joseph Elledge has been charged with her murder and is awaiting trial.
Editor is WebTech Group (WTG). WTG is a web hosting, design, SEO, press release distribution company and news agency located in St. Louis, Missouri. Site is owned and operate multiple news sites in the region. Our objective with STLNewsMissouri.com is to offer readers a one-stop news site for Missouri news. We aggregate news from news media across the state. We do not aggregate news from all sources. We pick from those that offer RSS feeds and pick the best with eliminating those that might produce the same news stories, written differently.