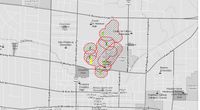 COLUMBIA- Columbia Water and Light has confirmed multiple power outages in central and downtown Columbia. 
The outage map shows 80 plus people affected in seven different areas. The cause is unknown, and Water & Light is working to restore power as soon as possible.
The outages are also affecting some traffic signals. Drivers should treat these intersections as four-way stops.
Boone County Joint Communications said there is traffic congestion downtown, and to consider an alternative route.
There have also been reports of an outage at Rise on 9th in downtown Columbia.
According to an email from the apartment company, elevators are operating on a backup generator, but encourage residents to avoid using them unless necessary.