0
0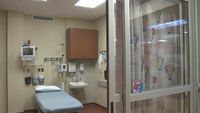 COLUMBIA – A weekly report issued by the Missouri Hospital Association shows ventilator capacity in the state nearing the "red zone."
The recommended ventilator capacity is 22.66 ventilators per 100,000 people, according to GlobalData. Missouri's capacity is currently at 24.03 per 100,000 people.
According to data from the association, the state has a total of 2,384 ventilators, and 1,665 are still available.
ICU availability it at 30.57% and ordinary bed availability is at 41.71%.
State hospitalization numbers from the previous week also increased.
Editor is WebTech Group (WTG). WTG is a web hosting, design, SEO, press release distribution company and news agency located in St. Louis, Missouri. Site is owned and operate multiple news sites in the region. Our objective with STLNewsMissouri.com is to offer readers a one-stop news site for Missouri news. We aggregate news from news media across the state. We do not aggregate news from all sources. We pick from those that offer RSS feeds and pick the best with eliminating those that might produce the same news stories, written differently.