0
0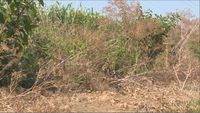 JEFFERSON CITY, Mo. (AP) — Missouri's state fire marshal is encouraging people to avoid outside burning amid a statewide drought that has gripped the state for several weeks.
Fire Marshal Tim Bean said in a news release Tuesday that under the current dry conditions, even a small outdoor fire can get out of control and spread rapidly. Bean cited the lack of significant rainfall but also low humidity, gusty winds and warm temperatures.
The U.S. Drought Monitor shows that several Missouri counties are experiencing drought conditions, including five with extreme droughts: Barry, Christian, Greene, Lawrence and Stone counties. Several wildfires have burned hundreds of thousands of acres in western states.
Editor is WebTech Group (WTG). WTG is a web hosting, design, SEO, press release distribution company and news agency located in St. Louis, Missouri. Site is owned and operate multiple news sites in the region. Our objective with STLNewsMissouri.com is to offer readers a one-stop news site for Missouri news. We aggregate news from news media across the state. We do not aggregate news from all sources. We pick from those that offer RSS feeds and pick the best with eliminating those that might produce the same news stories, written differently.