0
0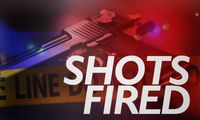 JEFFERSON CITY — The Jefferson City Police Department is currently investigating an early-morning shooting at a gas station, which resulted in one injury.
Police were called to Break Time at 326 Ellis Boulevard around 3:05 a.m. Wednesday morning. 
According to a news release from the department, a man in his early twenties was transported to a local hospital for gunshot wounds. He was later moved to University Hospital in Columbia. 
Police do not believe the shooting was random. Currently, police do not have anyone in custody. 
The investigation is ongoing. Anyone with any information is encouraged to contact the Jefferson City Police at (573) 634-6400, Crime Stoppers at (573) 659-TIPS (8177) or visit http://www.jeffcitycrimestoppers.com. 
Editor is WebTech Group (WTG). WTG is a web hosting, design, SEO, press release distribution company and news agency located in St. Louis, Missouri. Site is owned and operate multiple news sites in the region. Our objective with STLNewsMissouri.com is to offer readers a one-stop news site for Missouri news. We aggregate news from news media across the state. We do not aggregate news from all sources. We pick from those that offer RSS feeds and pick the best with eliminating those that might produce the same news stories, written differently.