Read Time
1 Minute, 3 Second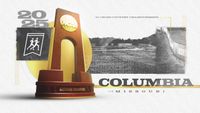 COLUMBIA- Columbia will host the 2025 NCAA Division I Men's and Women's Cross Country National Championships. The events will take place at Gans Creek Cross Country Course. 
According to a press release sent by the Columbia Convention and Visitors Bureau Wednesday, the bureau, Columbia Sports Commission and the University of Missouri will co-host the events.
"While Mizzou has successfully hosted several NCAA Regional championship events over the years, this marks the first time Columbia has been selected to host an NCAA championship, and I know that we will work with city officials to make it a special event for all of the participants," Mizzou Director of Athletics Jim Sterk said.
The CVB and Columbia Sports Commission worked closely with the University of Missouri Department of Athletics to assemble the bid for the event, which will bring over 500 athletes to Columbia. 
The Show-Me State was awarded with multiple events. The 2024 NCAA Wrestling Championship will take place in Kansas City, while the 2025 NCAA ice hickey Frozen Four will take place in St. Louis.
A press conference announcing additional details will be held Thursday at 8:30 a.m. at Gans Creek Cross Country Course.