0
0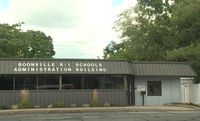 BOONVILLE — The Boonville R-1 School District Board of Education is holding a special session meeting Wednesday evening. 
The meeting's agenda includes considering deeming school employees as essential. This would allow those who have been exposed to COVID-19 but are asymptomatic to continue to work in school buildings while wearing a mask and social distancing, according to the Missouri Department of Elementary and Secondary Education.
The board will also consider changing student quarantine guidelines. 
According to the Cooper County Health Department, almost 80 people within the Boonville School District's geographical boundary tested positive for COVID-19 within the past month. 
Nearly 200 residents in the boundary have tested positive this semester alone. 
The Board of Education meeting will be at 6 p.m. Wednesday, and is available via livestream.
Editor is WebTech Group (WTG). WTG is a web hosting, design, SEO, press release distribution company and news agency located in St. Louis, Missouri. Site is owned and operate multiple news sites in the region. Our objective with STLNewsMissouri.com is to offer readers a one-stop news site for Missouri news. We aggregate news from news media across the state. We do not aggregate news from all sources. We pick from those that offer RSS feeds and pick the best with eliminating those that might produce the same news stories, written differently.