0
0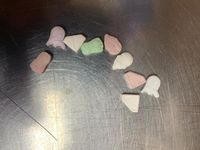 POTOSI, Mo. (AP) — The police chief in a small eastern Missouri town is warning that illegal drugs found on the street look like candy or children's vitamins.
KTVI-TV reports that officers in Potosi recently seized the drugs during a traffic stop. Potosi Police Chief Michael Gum posted photos of the drugs on the department's Facebook page.
Gum says officials aren't sure exactly what is in the drug, but the man found with them identified the substance as the mood-altering drug ecstasy.
Investigators have sent the drugs to a crime lab for testing, but results could take weeks.
Editor is WebTech Group (WTG). WTG is a web hosting, design, SEO, press release distribution company and news agency located in St. Louis, Missouri. Site is owned and operate multiple news sites in the region. Our objective with STLNewsMissouri.com is to offer readers a one-stop news site for Missouri news. We aggregate news from news media across the state. We do not aggregate news from all sources. We pick from those that offer RSS feeds and pick the best with eliminating those that might produce the same news stories, written differently.