Read Time
2 Minute, 0 Second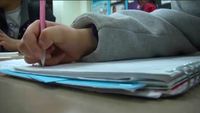 COLUMBIA – Columbia Public Schools recently sent out progress reports, but many students received inaccurate reports showing a higher failure rate.
At last night's board meeting, CPS director of assessment and intervention, David Wilson, compared progress report data from this school year to last year's.
KOMU tried to confirmed the data, but CPS said the many of the progress reports sent out were incorrect and the data wasn't accurate.
"[Wilson] actually started that whole conversation with the preface that the numbers were grossly inaccurate. That we had large scale data entry errors that we will be working to resolve," said Baumstark. "And so that is why you see numbers or hearing numbers that were grossly inflated. And he actually prefaced that at the beginning of his his attempt to answer really specific questions from board members last night."
CPS wanted to standardize everything across the district and insisted that teachers use Schoology, which is a learning management system. Schoology is new to many CPS teachers. Wilson said because it's a new system, some teachers may have had issues with setting up their grade books correctly or issues with grades syncing properly. That's why many students didn't get the right progress reports. 
"When we initially issued those IPR's, we started to notice some large scale errors, and certainly did not want to scare any of our family members, but also really wanted to make sure that we did identify those errors and work on making those corrections," said CPS community relations director Michelle Baumstark.
Baumstark also said the there may be some trends in the reports, but with the incorrect data, no official statements can be made about the progress reports yet. 
"You have to also understand that people are putting so much weight on [the progress reports] because they're wanting to tie it to success in virtual and not success in virtual,"  said Baumstark. "That is not the measure of an IPR is simply like, here's where you are, but the first IPR of every school year, typically, they're not good."
CPS is currently working with teachers to ensure the correct the progress reports. Families of students have been informed of the error on the reports and are encouraged to contact their student's teacher if they have any questions.