0
0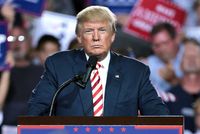 SANFORD, Florida (AP) — President Donald Trump has retuned to the campaign trail as he tries to stage a late comeback just a week after his release from the hospital over a serious case of COVID-19.
Trump is headlining a rally in Sanford, Florida, as he faces a stubborn deficit in national and battleground state polls three weeks from Election Day.
Trump's doctor said Monday for the first time that the president had tested negative for COVID-19 on "consecutive days." Navy Cmdr.
Scott Conley said the tests, taken in conjunction with other data, including viral load, have led him to conclude that Trump is not contagious.
Editor is WebTech Group (WTG). WTG is a web hosting, design, SEO, press release distribution company and news agency located in St. Louis, Missouri. Site is owned and operate multiple news sites in the region. Our objective with STLNewsMissouri.com is to offer readers a one-stop news site for Missouri news. We aggregate news from news media across the state. We do not aggregate news from all sources. We pick from those that offer RSS feeds and pick the best with eliminating those that might produce the same news stories, written differently.