0
0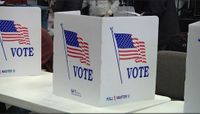 O'FALLON (AP) — With the election just three weeks away, a federal appeals panel in St. Louis is expected to rule soon on whether Missourians casting mail-in ballots can drop them off in person, despite a state regulation requiring them to be delivered via mail.
U.S. District Judge Brian Wimes in Kansas City on Friday issued a temporary restraining order allowing voters to return mail-in ballots in person.
But a day later, Wimes granted Secretary of State Jay Ashcroft's request for a temporary stay, pending a ruling by the Eighth U.S. Circuit Court of Appeals.
It's unclear when the three-judge panel will issue its ruling.
Editor is WebTech Group (WTG). WTG is a web hosting, design, SEO, press release distribution company and news agency located in St. Louis, Missouri. Site is owned and operate multiple news sites in the region. Our objective with STLNewsMissouri.com is to offer readers a one-stop news site for Missouri news. We aggregate news from news media across the state. We do not aggregate news from all sources. We pick from those that offer RSS feeds and pick the best with eliminating those that might produce the same news stories, written differently.