Read Time
1 Minute, 12 Second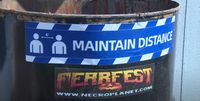 COLUMBIA – Trick-or-treating, pumpkin patches and haunted houses will look different this year due to COVID-19, but Fearfest Haunted House is still bringing its customers an experience from a distance.
Fearfest owner Bill Schnell said he worked with the Boone County Health Department to make sure social distancing and sanitation guidelines are met.
He said organizers of the haunted house had to figure out how to safely scare.
"They're still going to be jumping out of nowhere and scaring people," Schnell said. "They're just going to be keeping their distance a little bit more."
Schnell also said the actors will wear masks, use disposable makeup brushes and sanitize their areas after each use.
For one actor, Fearfest is his favorite part of the year. He said there's nothing he's more passionate about than scaring someone.
"Once you do it, you just can't help it," John Minnis said. "You need to do it again."
Minnis said he and his fellow actors adjusted where they come from and how close they get to their customers while scaring.
He also said the Fearfest experience is something people need now more than ever.
"In order to get away from all the stress, it's an escape from the real world," Minnis said.
Fearfest is open every Thursday through Saturday in October and the first Friday and Saturday in November. For more information, click here.