Read Time
3 Minute, 33 Second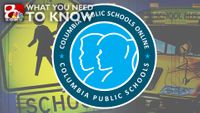 The CPS Board of Education will decide whether families who chose in-person learning for their children will be able to go back to school buildings during its meeting Monday night.
Last week, board members discussed options for students and teachers to return to the classroom, including the idea of different return dates for various age groups.
CPS Superintendent Peter Stiepleman also presented the option of having students return to in-person learning four days a week in phases. The plan would also include students staying at home on Wednesdays so buildings can be cleaned.
The plan would have elementary school students returning to classrooms on October 19, with middle school students returning November 5.
The Missouri Department of Health and Senior Services posted on its Facebook page on Sunday saying a database error on Oct. 10 caused an inflation of cases to get reported on Saturday.
The error suggested that 5,022 cases had been added in a single day, which would have been a new single day record in the state.
"When this issue was initially raised Saturday morning, the dashboard team began working through the data to identify the problem and are working through the weekend to correct the underlying issue," said Dr. Randall Williams, DHSS Director said in a press release.
 It's the year without a pumpkin festival in Hartsburg.
For the past 28 years, the annual Hartsburg Pumpkin Festival has brought thousands of people to the small town and while it isn't happening this weekend, Hartsburg is still seeing increased traffic.
In a typical year, the festival runs the second weekend in October. The committee behind the celebration cancelled it this year because of the COVID-19 pandemic.
Jo Hackman, the owner of Hackman Farms, said despite the cancellation, pumpkins are still selling this year.
"We're close to being out of pumpkins," Hackman said. "We've been very busy. In fact, I would say this will be the last weekend we'll be able to have any pumpkins."
Police say three people were killed and seven others injured in separate shootings over six hours overnight in St. Louis.
The St. Louis Post-Dispatch reports the shootings happened from 11 p.m. Saturday to about 5 a.m. Sunday.
The first shooting death happened shortly after 11 p.m. Saturday of a male victim.
Another fatal shooting was reported at 4:45 a.m. Sunday when a male victim was found with multiple gunshot wounds.
About 5:15 a.m. Sunday, an unidentified male victim was found shot in the stomach and later died at a local hospital.
The annual Jefferson City Walk to End Alzheimer's looked a little different this year due to the pandemic.
With the need to follow social distancing guidelines, the Greater Missouri Chapter of the Alzheimer's Association had to devise a plan that balanced both participant safety and the walk's mission.
This year's walk did not take place in one location. Participants were encouraged to walk with smaller groups of friends and family all across the city.
"I think the biggest opportunity this year is instead of the walk being a single day, in a single place in Jefferson City, the walk is everywhere," said the walk's manager, Joe Pallikkathayil.
Today's First Alert Weather Forecast
Mostly cloudy and breezy with temps dropping from 70 degrees down to 58-63 degrees through the 10am hour as a cold front passes through Missouri. While a few brief showers are possible this morning, most will stay dry. Afternoon sunshine with breezy winds from the northwest at 35 mph. High of 71. Lows tonight in the lower 50s.
A cold front will pass through Columbia early this morning

Cooler, breezy today with a "slight chance" for morning rain (its less than 10-20%) #mowx @KOMUnews pic.twitter.com/afzfcGKYXl

— Tim Schmidt (@komuTim) October 12, 2020