Read Time
1 Minute, 59 Second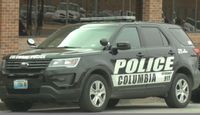 COLUMBIA – The Columbia Police Department will hold the Columbia Police Chief's Vehicle Stop Committee meeting at the CPD Regional Training Center Tuesday at 5:30 p.m. 
The committee is now working with a small, MU research team to look at traffic stop data that's generated when police officers stop drivers and to see what lies behind the disparities between drivers. 
CPD's Communications and Outreach Supervisor Toni Messina said bias and intent are factors that the committee will review in order to draw conclusions.
"There could be some level of bias, or maybe not. But the intent is really to look at that data and see what contributes officers decision making, and see if there is any way to influence what that data look like." 
CPD said the committee came together after an Attorney General report showed Black drivers in Columbia were 75 percent more likely to get pulled over than white drivers. 
The committee hopes to close the gap by reviewing data and gathering conclusions as it contributes to an officer's decision to pull a driver over. 
Messina explained that MU's research team will help effectively draw conclusions.
"These people are active researchers and professors, and they have expertise in census data, in social work and in geographic mapping," Messina said. "So that should be a really interesting exchange, they will be looking at some of the data and making some conclusions about what might contribute to police officers, making traffic stops on a day to day basis."
Although the MU research team help is needed, Messina said the community members on the committee are vital because it gives different perspectives. 
"I think it's important for regular citizens to participate, because that assures a level of independence and perspective that maybe we don't have in the department because we work with this every day, we get from a professional perspective and perhaps a little less so from a community perspective."
Messina said MU's research will help CPD look more into police training and perhaps policy. 
The meeting will start at 5:30 p.m. You can look for the agenda here.