Read Time
2 Minute, 54 Second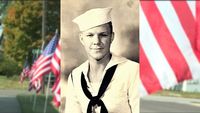 TIPTON – A World War II sailor returned home to his final resting place in Tipton Saturday – more than 76 years after being killed in action.
Gunner's Mate Second Class Harold Lee Dick joined the Navy in 1941 after attending Moniteau County Schools.
He was one of 39 sailors killed when the USS Colorado was attacked by Japanese gunfire on July 24, 1944. For his second cousin Beverly Simmons, he was frozen in time as a 22 years old storied hero.
"We all grew up hearing of Harold Lee with mom talking about Harold Lee. So my kids even knew about Harold Lee," she said.
The sailor was buried on the Pacific island Saipan. His parents wrote to the U.S. government to try to bring the remains of their only son back to Missouri. A 1946 letter from the Navy told the family it was probable all identification was lost.
In 1950, his remains were designated only as X-39 and buried in the Manila American Cemetery in the Philippines. Research done by the family suggests his last name was misspelled leading to the unknown designation.
DNA samples from his sister and cousin were able to identify him in 2017 and begin the process of homecoming and closure for his closest surviving relative, cousin Mildred Oswald, Simmon's mother.
"The next time I bring Mom down, Harold Lee's stone will be here, and she'll know he's here. That was our goal and it surpassed what I ever dreamed. I knew it would be great, but it even surpassed that. It's just unbelievable," Simmons said.
His remains landed at Kansas City International Airport on Wednesday afternoon. State highway patrol troopers blocked entrances to I-70 as he was escorted to Sedalia.
Family and strangers from all across Missouri, in addition to volunteers from Illinois, Kansas and Tennessee, came to celebrate GM2 Dick's life Saturday. Over 80 Patriot Guard Riders escorted the procession from his funeral in Sedalia to Tipton, while hundreds lined Route 50 to pay respects.
500 American flags were placed in Tipton alone to pay tribute. The Whiteman Air Force Base performed a flyover while American Legion members and a Navy honor guard performed military honors and served as casket bearers.
"This is what we all sign up for. This is what we raise our right hand from the very first day to come out and do…when we get to support the community and support the families like this, it's what we really look forward to," said LS1 Anthony Ballard, a Navy casualty assistance calls officer.
The owners of Hometown Cafe on Route 50 in Morgan County asked the local civil air patrol to use their parking lot to honor GM2 Dick as the motorcade passed by. The teens were excited to take part.
"He made our country what it is today. Just the fact that he served gives me hope and because of him I want to serve," said Cadet Technical Sergeant Jonas Daniels.
The family held out hope for 76 years. His mother never cashed a 25-cent check from the government, all that was in GM2 Dick's pocket when he died. Still, Simmons said Saturday never seemed likely to happen and the community support made it an event she'll never forget.
"I don't know that there is a word, the most beautiful day, just a beautiful day…the greatest day ever. I'm thankful, so so thankful," she said.