Read Time
2 Minute, 46 Second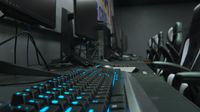 COLUMBIA — Like most high school sports having to adapt to the pandemic, esports in Columbia turned fully-remote heading into the fall.
Hickman eSports kicked off its Overwatch fall season on Wednesday. They were set to play Ozark, but they had to forfeit since they couldn't field a full roster in time.
Hickman coach and team sponsor Andrew Bechtel said a lot of teams, including his own, struggled to fill a roster of a minimum of six players who could play from home.
"We have eight students from Hickman who are participating on our team and we actually picked up one player from Rock Bridge," Bechtel said.
Jaden Edgar, one of the nine players on the roster, said he was worried there might not have been enough people able to play this season since Overwatch requires equipment to play from home.
"I didn't know how many people would have home setups," Edgar said. "I had one and at least two or three other people [I knew] had ones, but I didn't know about anyone else."
The team would normally play together at the Hickman Gaming Crib, but since Hickman switched to remote learning this fall, getting people interested in playing this season was a challenge.
"One of the best ways for us to get students in here is to open the gaming crib up and let anyone who's interested come in and play," Bechtel said. "When we're in a pandemic, we can't do that."
Despite the limited roster, he said Hickman has overall seen a smooth transition to at-home gaming, with the exception of a few downsides.
"Not everyone has the best WiFi and sometimes it cuts out," Edgar said. 
Edgar said he had some trouble himself with technical issues like this in the first week of practice.
"We spend a lot of time troubleshooting the equipment for him so that he can have his game session," Scott Edgar, Jaden's father, said. "I know recently things didn't go his way when he tried to log into a practice and he was beside himself."
In previous seasons, Ukatsu, a local esports facility, sponsored and hosted competitions for the Kewpies. The facility was forced to close permanently this summer due to the pandemic.
"We'd go there and then they would host like the entire thing," Edgar said. "I was really sad about that."
This season, Missouri High School Esports Association (MHSEA) partnered with NASEF, a national esports federation, to sponsor the Hickman Overwatch season this fall.
Hickman's weekly competitions are streamed live on the Hickman eSports Twitch account.
Even though Edgar gets to talk to his teammates through his headset, he said he misses getting to play alongside his squad.
"I feel like the hardest transition was not being able to see my friends," Edgar said. "I was excited to see some of them and talk with them in-person, but then the pandemic hit."
Bechtel said this has been a challenge for his team as a whole.
"It's harder to build that team bond when they can't come together and interact with each other the way teenagers do," Bechtel said.
Hickman's Overwatch team is scheduled to play five more teams leading into the playoff rounds that start in November.