0
0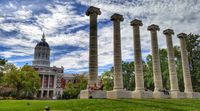 COLUMBIA, Mo. (AP) — More than 150 University of Missouri students have been caught using group chats to cheat on exams since many classes moved online amid the coronavirus pandemic.
The Columbia Missourian reports that university spokeswoman Liz McCune said Friday that the school has identified three cheating incidents that each involved more than 50 students. McCune said classmates went to instructors to report that the students were sharing answers through screenshots and over chats.
One incident occurred in the spring and the other two this semester.
Editor is WebTech Group (WTG). WTG is a web hosting, design, SEO, press release distribution company and news agency located in St. Louis, Missouri. Site is owned and operate multiple news sites in the region. Our objective with STLNewsMissouri.com is to offer readers a one-stop news site for Missouri news. We aggregate news from news media across the state. We do not aggregate news from all sources. We pick from those that offer RSS feeds and pick the best with eliminating those that might produce the same news stories, written differently.