0
0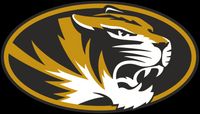 COLUMBIA – In the first win under first year Head Coach Eliah Drinkwitz Mizzou upset 17th ranked LSU on Saturday at Faurot Field.
Quarterback Connor Bazelak led the attack for Missouri in his second career start.  Bazelak threw for 406 yards on 29 for 34 passing and 4 touchdowns.  
Missouri took the lead on a Bazelak touchdown pass to Tight End Niko Hea with 5:18 remaining in the game to go ahead 45 to 41.
LSU drove down to the Missouri one yard line before the Tiger defense held LSU out of the end zone to win.  Linebacker Nick Bolton and Defensive Back Josh Bledsoe made game-saving pass break-ups on the final two plays of the series to secure the victory.
"Our defense just willed it out," said Drinkwitz in an interview with the SEC Network moments after the game.
It is the first win for the Mizzou Football team over a ranked opponent since the Tigers defeated Florida in 2018.
Editor is WebTech Group (WTG). WTG is a web hosting, design, SEO, press release distribution company and news agency located in St. Louis, Missouri. Site is owned and operate multiple news sites in the region. Our objective with STLNewsMissouri.com is to offer readers a one-stop news site for Missouri news. We aggregate news from news media across the state. We do not aggregate news from all sources. We pick from those that offer RSS feeds and pick the best with eliminating those that might produce the same news stories, written differently.