Read Time
2 Minute, 39 Second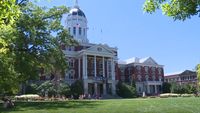 COLUMBIA – MU announced an in-person commencement ceremony for December graduates will not be held this fall. MU officials say graduation will be virtual and this action was necessary due to precautions for the COVID-19 pandemic.
Megan McConachie, the strategic communication manager at Columbia's Convention and Visitors Bureau, said this is another blow to local businesses.
"I think a lot of our local businesses, and I don't necessarily want to speak for them, have had to adjust multiple times over this past year as far as maybe anticipating an event and then having it postponed or canceled," McConachie said. "So this is just going to be another one of those times where adjustments will have to be made and hopefully where our community can step in and help to support those local businesses as well."
McConachie also said this hurts Columbia's huge tourism industry.
"The tourism industry has taken a really significant hit during this pandemic, so not only is there an economic impact but there is also an impact to jobs," McConachie said. "Typically, over 11,000 people in Boone County are employed by the tourism industry and many of those people have unfortunately have lost their positions." 
Additionally, MU students who plan to graduate in December are not pleased with the news. 
Elijah Brown, a linguistic and Spanish student who will graduate in December, said he is unhappy with MU's decision. 
"I can't help but to be, like, very upset with the university by doing this to us," Brown said. "I've worked so hard, countless semesters of achieving and giving back to the community here in Columbia, just for them to take away this one huge moment. This is a huge moment in anyone's life."
Jayme Henderson, another student graduating in December, said MU is showing its true colors.
"Honestly, it's really a slap in the face because it's kind of showing Mizzou's priorities of them putting money over what we've all come here to do, which is to graduate, which is to finish out these four years or however long that you're here and really celebrate that moment," Henderson said.
Brown also said that you only graduate once, and you shouldn't have that moment taken away from you. 
"You only graduate college once and for a person like me, and I'm first generation, so it's really big for me, big for my family," Brown said. "I was counting on all my little cousins being there, me being the first actual graduate in our family, it was going to be a powerful moment for them." 
MU officials plan to have an in-person commencement ceremony for both May and December 2020 graduates at a later date.