0
0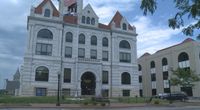 LOHMAN – Prosecutors charged a man Thursday with statutory rape following an investigation into a reported sexual offense.
Deputies took the report on October 1, and said in a news release the incident involved Adam Lueckenhoff, 37, and an underage girl. The release said Lueckenhoff admitted to the relationship during an interview.
He later posted his $10,000 bond and was released. Deputies said the investigation is ongoing.
Editor is WebTech Group (WTG). WTG is a web hosting, design, SEO, press release distribution company and news agency located in St. Louis, Missouri. Site is owned and operate multiple news sites in the region. Our objective with STLNewsMissouri.com is to offer readers a one-stop news site for Missouri news. We aggregate news from news media across the state. We do not aggregate news from all sources. We pick from those that offer RSS feeds and pick the best with eliminating those that might produce the same news stories, written differently.