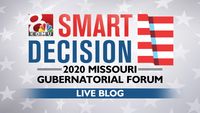 COLUMBIA- Missouri candidates for governor will gather for a forum at 2 p.m. Friday, Oct. 9. Watch the forum on KOMU.com, on channel 8 and follow along on Twitter with the hashtag #MOGov2020.
The forum will be the first time all four candidates, including Gov. Mike Parson, R; State Auditor Nicole Galloway, D; Libertarian nominee Rik Combs; and Green Party nominee Jerome Bauer, share a stage to discuss their positions.
David Lieb, the Associated Press' chief correspondent in Jefferson City, will moderate.
Candidate are expected to to discuss the state's COVID-19 response, issues surrounding policing and criminal justice, state budget issues and more.
BLOG
Supporters for @nicolergalloway are already here chanting and showing their support. @KOMUnews #mogov2020 @caroline_reevie pic.twitter.com/9V9bLUCLQN

— Marina Silva (@MARINASILVATV) October 9, 2020
The Missouri Governor's debate is set to begin in about 45 minutes. @caroline_reevie and I are here at the debate and will bring you team coverage at 5 & 6 on @KOMUnews #mogov2020

— Marina Silva (@MARINASILVATV) October 9, 2020