0
0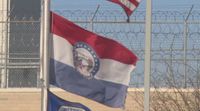 JEFFERSON CITY – Charges are pending for a corrections worker at the Jefferson City Correctional Center after deputies said she planned to smuggle in drugs.
In a news release, the Cole County Sheriff's Department said they found the employee with 39 grams of methamphetamine packaged in multiple bags. They also found about one pound of K2, also packaged in multiple bundles.
Deputies said the packages were meant to be smuggled into the correctional center.
Editor is WebTech Group (WTG). WTG is a web hosting, design, SEO, press release distribution company and news agency located in St. Louis, Missouri. Site is owned and operate multiple news sites in the region. Our objective with STLNewsMissouri.com is to offer readers a one-stop news site for Missouri news. We aggregate news from news media across the state. We do not aggregate news from all sources. We pick from those that offer RSS feeds and pick the best with eliminating those that might produce the same news stories, written differently.