Read Time
2 Minute, 19 Second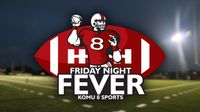 MID-MISSOURI – Week 7 of Friday Night Fever is here. Before you head out to your team's game, check out all the news surrounding high school football in Missouri.
Helias and Jefferson City meet for first time ever
Jefferson City will host Helias on Friday night for the first football matchup ever between the two schools. Even though the two schools are only a few minutes apart in Jefferson City, they had never had a football matchup before.
Camdenton celebrates 500th program win last week
Last week, Camdenton beat Hillcrest 38-14, bringing the program its 500th win. This week they take on Lebanon at their home field.
That's the 500th victory for the Laker football program! Congratulations to Jeff Shore and the rest of the Camdenton Lakers!!!

— Camdenton Lakers (@lkrathletics) October 3, 2020
Schedule changes for Week 7
Southern Boone schedules game in Kansas due to rising covid-19 cases
Southern Boone County canceled its game last week against Hallsville due to COVID-19.
This week, Southern Boone canceled its Friday night match at School of the Osage.
Instead, Southern Boone will travel to Tonganoxie High School in Kansas, about 20 miles past the Missouri-Kansas border.
Osage will now host Christian High School.
Battle will face Smith-Cotton in Columbia on Saturday.
Originally, Battle was supposed to play Rock Bridge on Friday. Rock Bridge canceled against Battle after a positive COVID-19 test and possible exposure.
Smith-Cotton was originally supposed to face Capital City on Friday, until Capital City canceled due to COVID-19.
Tolton @ Westran
The Father Tolton football team was originally supposed to play at Hogan Prep on Saturday.
That game was canceled by Hogan Prep, leading to Tolton traveling to Westran.
Blazers! Our football game next Saturday at Hogan Prep has been cancelled. Instead, we'll play at Westran on Friday, 10/9 at 7 pm!

— ToltonAD (@ToltonAthletics) October 3, 2020
Centralia @ Bowling Green
Centralia was originally supposed to host South Shelby, but will now travel to Bowling Green on Friday night.
Centralia Football vs Bowling Green is Offical. Centralia Will travel to Bowling Green. Kick off at 7:00 PM

— Centralia AD (@CHSbball_boys) October 8, 2020
Fulton homecoming
Fulton's Friday night game against Marshall is their 2020 homecoming game.
A Homecoming to Remember! Thank you STUCO, Band, Choir, Teachers & everyone else for helping us make memories!! #FultonProud @FPSHornets @FPSActivities pic.twitter.com/UhZUXFvPdk

— FHS Hornets (@FHSHornets) October 9, 2020
Blair Oaks homecoming
Blair Oaks' Friday night matchup against Hallsville is their 2020 homecoming game.
GAME WEEK ??

?? Friday, Oct. 9th
?? Hallsville
?? Falcon Athletic Complex
? 7 p.m. (CT)#FalconsFootball x #WeAreBlairOaks pic.twitter.com/hzbSR5SXwq

— Blair Oaks Football (@BlairOaks_1) October 5, 2020