0
0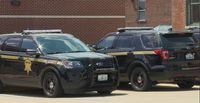 JEFFERSON CITY – A man and woman face charges after their arrest Thursday, which comes after the death of a two-month-old child in late September.
Jason Williams, 29, and Kayla Brewer, 19, are charged with endangering the welfare of a child, receiving stolen property and delivery of a controlled substance.
The investigation started on September 30 after the couple's child died. The cause of death has not been released. While investigating, deputies found a stolen gun, marijuana and more than $30,000.
The Cole County Sheriff's Department said other state and federal agencies assisted in the investigation. More charges are expected in the case.
Editor is WebTech Group (WTG). WTG is a web hosting, design, SEO, press release distribution company and news agency located in St. Louis, Missouri. Site is owned and operate multiple news sites in the region. Our objective with STLNewsMissouri.com is to offer readers a one-stop news site for Missouri news. We aggregate news from news media across the state. We do not aggregate news from all sources. We pick from those that offer RSS feeds and pick the best with eliminating those that might produce the same news stories, written differently.