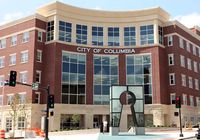 COLUMBIA- The City of Columbia announced utility disconnections will resume on Oct. 26.
The city encourages residents behind in payments to make arrangements with the city in order to avoid having their utilities shut off.
The city initially suspended disconnections in March because of financial hardships resulting from the pandemic. The city stated disconnections would resume Oct. 5, but organizational issues delayed the deadline further.
"We will continue to do everything we can with our community partners to help our customers who continue to face hardships due to COVID-19," Utilities Director David Sorrell said in a press release Friday.
Sorrell said although the city understands the hardships caused by the pandemic, it must also consider the financial conditions of utility services in order to continue reliably providing services for residents.
The city also said it is also working with Central Missouri Community Action (CMCA) to provide financial assistance to those in need.
According to the release, CMCA is expected to announce the Boone Cares Initiative which will provide utility assistance to qualified Boone County residents.