Read Time
1 Minute, 51 Second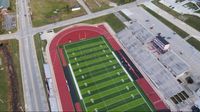 JEFFERSON CITY – Two schools. Five minutes apart. Separated by three stoplights on Stadium Boulevard in Jefferson City, but they've never played a football game against each other.
"There was a little bit… there was a lot of that attitude," George Young, play-by-play announcer for the Jefferson City Jays football team said.
The Jefferson City community has long awaited the fabled matchup featuring the Crusaders and the Jays, but it's never come to fruition. The implications the game could have on this 'football community' tell a greater story.
"In Jeff City, there's always kind of been this unwritten code that Jeff City and Helias can play in every sport, but let's not play in football," Chris Hentges, Helias Head Football Coach said. "I think it's a game people have wanted to see for a long time."
Despite this, the game never happened. The matchup between Pete Adkins and Ray Hentges never materialized, and the 'next-door neighbors' would never get bragging rights.
George Young is the play-by-play announcer for the Jefferson City Jays and has been for 22 years. He said football in Jefferson City is as big as it gets.
"All in all, the support for [Jeff City, Helias, Blair Oaks] in that city has been huge," Young said.
Because of this support, many athletic directors in the past were scared to put this game on the slate, over fear of what it would do to the community.
"The powers that had decided that this is a sport we're just not going to play in," Hentges said. "The fear is that Jeff City is such a football-crazed town that this rivalry wouldn't be good?"
With the new addition of the Central Missouri Athletics Conference, the long-awaited matchup is finally here.
"I've heard from a lot of former Jays that they wish they got the chance to play in the Jeff City-Helias game," Bailey said.
Two schools. One community. Under the lights, together, for the first time.
"I think everyone from both communities are excited about watching Friday night," Hentges said.
"This is us," Young said. "And tonight, Friday night, it's us and them finally getting together."