Read Time
1 Minute, 11 Second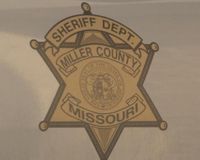 MILLER COUNTY- Deputies charged William Kyle Crooks Thursday regarding a death investigation of a 29-year-old female.
Officers responded to the residence in Olean, Missouri on Aug. 8 and found a woman who appeared to have died from a drug overdose. 
At the scene, a deputy found a bag containing a broken medicine capsule that appeared to contain a white powder. 
The capsule was submitted to a lab and was determined to be fentanyl, a Schedule II controlled substance. 
An autopsy revealed that the female died due to fentanyl intoxication.
Further investigation lead to identifying the suspect. Crooks is a 28-year-old from Columbia.
Crooks was located and taken into custody on Oct. 7 by Miller County detectives with the assistance of the Boone County Sherriff's Office. 
Crooks was charged with delivery of a controlled substance, a class C felony, and second degree murder, a class A felony. 
According to the probable cause statement, while in custody, Crooks said he brought a medicine capsule with fentanyl inside of it and gave it to the female. He then told her how much to take. 
Crooks also admitted that after she passed away, he called her grandmother and admitted to her that he brought her fentanyl. 
His bond is set at $400,000.