Read Time
2 Minute, 36 Second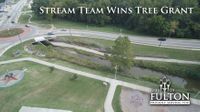 FULTON — The Fulton Stream Team won the "Trees Forever – Granting a Better Tomorrow" grant and plan to use it to plant 33 trees along Stinson Creek.
Engineering Technician for the City of Fulton Courtney Coffelt said they applied for the grant because there is a stretch of the stream that is in direct sunlight, which is harmful for the aquatic life in the stream. 
"Our aquatic life… they don't like hot water any more than we do. They like cool water. So, we need to cool the water and add shade," Coffelt said.
The stretch of stream is between Memorial Park and Business 54. Cars pass by it constantly, and Coffelt said it's on the bottom of what local people call "McDonald's Hill."
"Everybody goes to McDonald's," Coffelt said. "So, they'll be able to watch the trees grow."
Coffelt said after decorating their window in City Hall with a Veterans theme for Christmas, another idea struck her.
"At the time we were talking about applying for this grant, we were looking for partners," Coffelt said. "So, we were still in the veteran's frame of mind, I guess you can say. So, we decided to invite veterans in on our tree planting. And we talked about dedicating some of the trees or all of the trees to veterans."
After speaking with local VFW Post 2657, they decided to dedicate the trees to 10 Callaway County men who died in Vietnam, plus one veteran who worked for the City and recently died.
Corporal Thomas M. Baker is one of the men honored. He died in battle in 1968 at the age of 21. His surviving brother, Dewayne Baker, was 12 at the time. 
"It sounds great," Baker said of the tree dedications. "It won't bring him back… but it sounds great." 
Cpl. Thomas M. Baker has a memorial at the local VFW as well.
Coffelt said they are also partnering with local Boy Scout Troop 50, who will plant the trees. 
"They are cottonwood, sycamore, silver maple, black walnut and pin oak trees," Coffelt said. "So, they're pretty big. And hopefully they'll live a hundred years."
The trees will come from Truescape Garden Center in Fulton. 
"The only thing I'm waiting for now is a delivery date for the trees," Coffelt said. 
She hoped to plant the trees in October, but now is looking at November, near Veterans Day.
For more information and updates on the trees, you can visit the Stream Team's Facebook page.