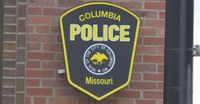 COLUMBIA- The Columbia Police Department announced that parking enforcement is now under the supervision of its Traffic Unit and Special Events Division, effective Thursday, Oct. 1.
Under the previous model, the parking enforcement agents worked in the City of Columbia Public Works Division.
The transfer of duties from the Department of Public Works started at the City of Columbia's fiscal year and allows CPD to extend its community policing model to the downtown area. 
CPD Chief Geoff Jones said the change allows Community Service Aides to have constant contact with business owners and downtown patrons who park in the area.
"By increasing CPD's presence at this level, our goal is to strengthen relationships with community members and business owner and ensure those who live and work in this area feel safe," Jones said. "We want officers to solve problems, and that is no different with parking enforcement."
Four uniformed Community Service Aides have assumed parking enforcement responsibilities. According to the release, these are not new positions and were re-allocated within the Department.