0
0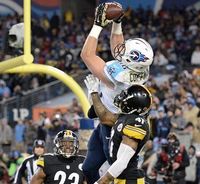 NASHVILLE (AP) — The NFL says the Pittsburgh-Tennessee game originally scheduled for Sunday will be played either Monday or Tuesday after a new positive coronavirus test among the Titans.
The NFL announced the switch Wednesday. The previous day, the NFL said three Titans players and five team personnel had tested positive for COVID-19. The Titans have closed their facility at least through Friday and will not be able to practice in any fashion together until Saturday at the earliest.
The NFL says a new date and time will be announced as soon as possible and that the postponement will allow additional time for further testing.
Editor is WebTech Group (WTG). WTG is a web hosting, design, SEO, press release distribution company and news agency located in St. Louis, Missouri. Site is owned and operate multiple news sites in the region. Our objective with STLNewsMissouri.com is to offer readers a one-stop news site for Missouri news. We aggregate news from news media across the state. We do not aggregate news from all sources. We pick from those that offer RSS feeds and pick the best with eliminating those that might produce the same news stories, written differently.