0
0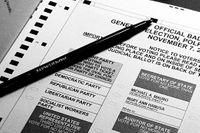 SEDALIA – Pettis County Clerk Nick La Strada confirmed that at least 1,200 blank absentee ballots were reported missing Wednesday morning.
La Strada said the ballots were in the custody of the US Postal Service before going missing. They were on the way to voters and hadn't been filled out.
"We've mailed out replacements," La Strada said. "Nobody was disenfranchised."
The disappearance comes less than 24 hours after President Trump casted doubt on absentee voting systems nationwide.
This story will be updated when more details are known.  
Editor is WebTech Group (WTG). WTG is a web hosting, design, SEO, press release distribution company and news agency located in St. Louis, Missouri. Site is owned and operate multiple news sites in the region. Our objective with STLNewsMissouri.com is to offer readers a one-stop news site for Missouri news. We aggregate news from news media across the state. We do not aggregate news from all sources. We pick from those that offer RSS feeds and pick the best with eliminating those that might produce the same news stories, written differently.