Read Time
3 Minute, 40 Second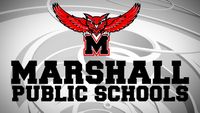 MARSHALL- Marshall Public Schools went remote Wednesday, after Superintendent Dr. Carol Maher met with her team and decided COVID-19 numbers were too high to continue in-person learning.
Dr. Maher said the numbers spiked last Thursday, with about 203 students and adults in the district in quarantine. Since the start of the school year, there have been 17 positive cases in the district.
"Right now, that means that the in-person learning has been suspended," Dr. Maher added. "And that we are in an all distance configuration. I hope that's rectified. I hope that goes away, I hope that we can come back."
Superintendent Maher said the district did not account for quarantine in its initial plan but has since created a new Returning to Learning plan.
"Our plan did not address quarantine cases. It addressed positive and new and hospitalizations," Maher said. "So, we now have revised the plan so that it it does have a plan for quarantines."
One Marshall father of four said this switch may not be doable for his family, even in the short-term.
"I'm not even sure what's going on with remote learning," he said. "[The school] keeps promising some help yet have only given the same old excuses."
The children's mom died, and since then, their father has struggled to keep everything afloat.
"It's more than I can handle," he said. 
Marshall High School senior Chandler Johnson said online learning has been very difficult, especially in his more hands-on classes.
"A lot of my classes require me to be hands on," Johnson said. "Welding, agriculture, mechanics, etc. It's really hard to do those online, as there's really nothing we could do. My friends don't have laptops or access to internet. So it's very difficult for them to kind of find a way to do it."
Johnson said he doesn't think there is any perfect solution, but he does not think Marshall is going in the right direction.
"Honestly, I feel the way Marshall is doing this is not enough," Johnson said. "I feel Marshall should also just shut down for the rest of the year. Because the way they're running things, it's not effective, and it's not really working."
He is not the only one who feels this way.
Mother JoAnna Hammer has two young children at home, one with special needs.
"My daughter… she is very scatterbrained. You know, I have to make sure… you know, 'Are you doing your math or your social studies?' And my son, once again, with everything that he's got with him, I had to sit down there and hold his hand, basically, and be like, 'Okay, this is step one, step two…" Hammer said. 
Despite the challenges of remote learning, Hammer said she actually wishes the school would have acted sooner to protect the students.
"We keep getting notifications about you know, this kid tested positive, another child has tested positive. I've got a mom who has an autoimmune disease. So, we can't have that around her," Hammer said. "So, it's scary."
Hammer said she decided to send her children to school at the beginning of the year but actually pulled them out early when she noticed students getting quarantined.
"When they had the first ones come through at the schools, whether it was a student, family member of a student, they should have taken notice then. And acted," Hammer said. "But they didn't."
Hammer received a call from her son's school, Spainhower Primary, which said that his absence will be unexcused. She said after so many unexcused absences, the school could turn her in to the Prosecuting Attorney.
"Because I made the decision to pull my child out for the sake of his safety," Hammer said.