Read Time
1 Minute, 51 Second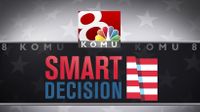 COLUMBIA – The Columbia League of Women Voters and the Daniel Boone Regional Library will co-host an Election Forum webinar Wednesday night to inform voters about ballot issues for the upcoming election. 
Wednesday's Zoom webinar will discuss Amendments One and Three for the Boone County November election ballot.
Amendment One proposes to extend the two term restriction for Governor and Treasurer to the Lt. Governor, Secretary of State, Auditor and Attorney General.
Amendment Three proposes to change the redistricting process voters approved in 2018 to have Governor appointed bipartisan commissions draw state legislative districts. 
Former Democratic House Representative Chris Kelly and Republican House Representative Tyler Hobbs will present on the proposed amendments.
Wednesday's webinar is the first forum in a series of events to inform voters before they go to the polls in November. 
The Columbia League of Women Voters President Marilyn McLeod explained this year's forum is taking place earlier in the year to inform voters sooner. 
"Normally we would do this a little bit closer to the election, but we know that many people have already begun getting their ballots," McLeod said. "It's important to get a chance to hear from, in this case, people talking about issues and in our other forums where they'll hear from the candidates in various positions in government."
To attend the Election Forum, voters can register online before the event starts at 7 p.m.
While the forum is taking a different format than previous years because of the pandemic, the online format can be more accessible to voters.
Lauren Williams, Adult Services Manager for DBRL, explained how the online webinar can reach more people than an in-person event.
"I think online events provide an opportunity for folks who may not have been able to come to an in person event just because of space limitations," Williams said. "Our Friend's Room [in the library] holds about 70 or 80 folks comfortably but 500 people can come to a webinar." 
The next Election Forum is Tuesday, Oct. 6 and will discuss State Representative and Senator candidates.