0
0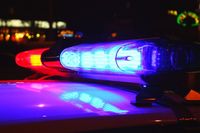 COLUMBIA – A bicyclist was rushed to the hospital, Wednesday, after a driver hit him and ran from the scene.
Sara Diedrich, a spokesperson with MUPD, said the incident happened at the corner of Virginia Avenue and Rollins Street around 6 p.m.
The driver, a 19-year-old man, was later arrested for leaving the scene.
Diedrich said both men are MU students.
There were no details available on the health condition of the bicyclist.
Editor is WebTech Group (WTG). WTG is a web hosting, design, SEO, press release distribution company and news agency located in St. Louis, Missouri. Site is owned and operate multiple news sites in the region. Our objective with STLNewsMissouri.com is to offer readers a one-stop news site for Missouri news. We aggregate news from news media across the state. We do not aggregate news from all sources. We pick from those that offer RSS feeds and pick the best with eliminating those that might produce the same news stories, written differently.