0
0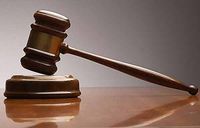 (AP) — The American Civil Liberties Union is suing over a Missouri court order allowing some Kansas City area evictions to continue during the coronavirus pandemic.
The ACLU on Wednesday filed a lawsuit in federal court.
The organization is fighting a Jackson Court Circuit Court order allowing some evictions to continue, even against people asking for leniency because of the pandemic.
The order still allows evictions if tenants don't ask for leniency or the eviction is based on tenants breaking the law, damaging property or violating a contract.
A spokeswoman says the court can't comment on the pending lawsuit.
Editor is WebTech Group (WTG). WTG is a web hosting, design, SEO, press release distribution company and news agency located in St. Louis, Missouri. Site is owned and operate multiple news sites in the region. Our objective with STLNewsMissouri.com is to offer readers a one-stop news site for Missouri news. We aggregate news from news media across the state. We do not aggregate news from all sources. We pick from those that offer RSS feeds and pick the best with eliminating those that might produce the same news stories, written differently.