Read Time
1 Minute, 25 Second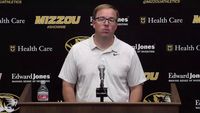 COLUMBIA- The Missouri Football team heads to Knoxville, Tennessee on Friday for its first road game of the season.
Traveling during the COVID-19 pandemic has been drastically affected across the country and college football teams are no different.
In the wake of outbreaks on teams that spread due to travel, including the one that sidelined the St. Louis Cardinals for more than three weeks during August, the Tigers are taking a cautious approach.
"I do not know what travel is going to bring," Missouri Head Coach Eliah Drinkwitz said.
"We're going to have to change the way we do roommates on the road so that we don't have double jeopardy when it comes to contact tracing."
Drinkwitz said the team will also use more buses than usual on the road to provide additional space between players as they travel in Knoxville.
The team plane is of particular concern as the Tigers will have to spend about an hour and a half in the air to get to Knoxville.  When the Cardinals had their outbreak the organization believed the original case was carried on to the team plane which led to the virus spreading quickly within the team.
"Any time you travel on an airplane the potential for contact tracing is extremely large," Drinkwitz said.
"That's obviously what's happened with the Tennessee Titans and obviously what happened with Major League Baseball. So that puts a whole new stress (on us)."
Drinkwitz was referring to the Tennessee Titans becoming the first NFL team to shut down in-person activities following eight positive tests within the organization after their road game Sunday in Minnesota.