Read Time
1 Minute, 16 Second
[ad_1]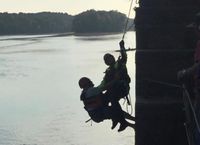 OSAGE COUNTY— Three people were rescued from the Osage River on Saturday after their pontoon boat got stuck in the lock and dam.
Osage County and Westphalia Fire Departments responded to the scene and called Jefferson City to dispatch, as well, because of their training with rope and swift water high angle rescue.
There were no injuries and all the departments worked together successfully.
The incident happened due to shallow waters and the type of boat. The pontoon's engine was too close to the ground.
Incidents similar to this have happened in the past near the dam. When it is shallow, it's known to be a very dangerous spot.
Sgt. Scott White with the Missouri Department Highway and Water Rescue Patrol said any waterway on the Osage could be dangerous.
"Know any waterway that you are on the Osage can get notoriously dangerous and shallow if you are not familiar with it. We have had boats go through it before and it is extremely dangerous."
He also mentioned that when water is shallow, outward motor props can get caught.
"It is really problematic when the water is down, especially if you have an outward motor prop because it can get caught. We found that the front of the pontoon boat it actually what got stuck when it came over the dam," White said.
The MSHP encourages boaters to be familiar with the waters they travel in and to always wear a life jacket.
[ad_2]

Source link