0
0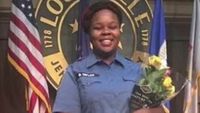 (AP)- Police say two Louisville, Kentucky, police officers have been shot and wounded during protests over a lack of charges in Breonna Taylor's death.
Interim Louisville Police Chief Robert Schroeder said Wednesday night that one person was in custody.
He says one officer was alert and stable and the other is undergoing surgery but is also stable.
He says the officers had gone to investigate reports of gunfire when they were shot. He says they're both expected to recover.
Editor is WebTech Group (WTG). WTG is a web hosting, design, SEO, press release distribution company and news agency located in St. Louis, Missouri. Site is owned and operate multiple news sites in the region. Our objective with STLNewsMissouri.com is to offer readers a one-stop news site for Missouri news. We aggregate news from news media across the state. We do not aggregate news from all sources. We pick from those that offer RSS feeds and pick the best with eliminating those that might produce the same news stories, written differently.